---
Two Creeks Neighborhood News
Click on the image below to enter the Lighting Contest by email. Remember to include all the information listed on the form.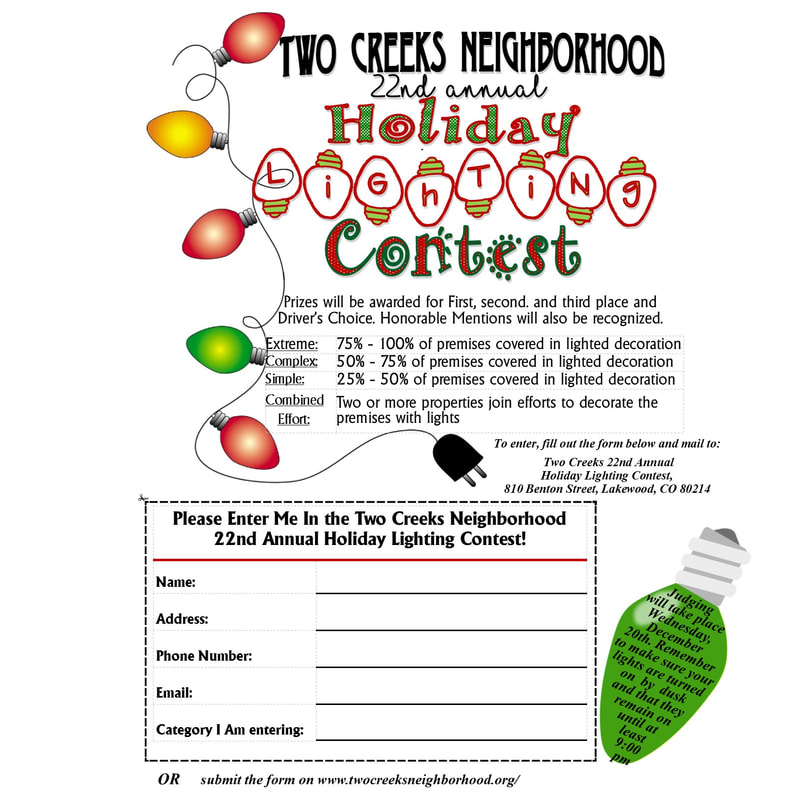 ---
---
Mountair Park Community Farm has enjoyed another successful season in the park. Besides assisting with the planting and preparing the vegetable production area volunteers have hosted several groups and tours, monthly workshops on topics like seed starting and food fermenting.

The farm helps to support the food pantries at Molholm Elementary School and Mountair Christian Church with weekly donations, as well as 40+ CSA shareholders and the donation-based farm stand. The farm is committed to a diverse array of community food distribution!
​
Click on the Sprout LOGO to learn more about the opportunities offered to our community.

Planning has begun for Lakewood's first Arts Loop, the ArtLine. You can read about ArtLine in the West Colfax Lately magazine. Click on the title to read the article.

---
---
City of Lakewood Announcements
Arts and Parks roundup

Shape Health in Lakewood

Crime Statistics
A new park along Dry Gulch from roughly 12th to 10th and Wadsworth and roughly two blocks east from 10th and Wadsworth is being proposed. On November 29th Lakewood hosted a meeting to discuss this new park. The plans were exciting with places to sit and enjoy by the creek. Stay tuned for further up-dates.




---

Click toView
Very soon work will begin on the eastern phase of this bike and pedestrian trail. Lakewood has received funding to begin construction on the trail from Sheridan Blvd. to Harlan St. They are still searching for funds for the remainder of the trail which will eventually extend to Wadsworth Blvd. and join other trails that hopefully will run through Denver and extend at least to the foothills.




---
Copyright©2014 by Two Creeks Neighborhood Organization All Rights Reserved.